Information for Foreign Students: Overview and Introduction of Culture
Kyoto Prefecture Overview
Kyoto prefecture lies almost at the center of Japan, and nature extends north and south from the heart of the prefecture, Kyoto City, population 1.4 million.
About 76 million tourists (2010) visit Kyoto yearly to enjoy the many historical buildings that have been recognised as world heritage sites by UNESCO, as well as Kyoto's traditional culture.
Furthermore, about 1,000,000 foreigners (2010) stay in Kyoto for sightseeing, business, and international conventions, and Kyoto is known throughout the world as a city for international sightseeing and conventions.(According to a Kyoto City tourism study)

Kyoto also has over 40 universities and colleges, and about 160,000 students.
Kyoto currently receives over 6,000 foreign students from around the world to study.
Kyoto is making progress as a region that warmly welcomes foreign students and is planning on receiving many more.
Tradition and Culture of Kyoto Prefecture
A long history and culture coexist with the latest technology and industry in Kyoto.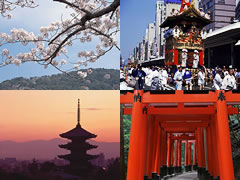 In the over 1,000 years since the Japanese capital was established in Kyoto in 794, Kyoto has been at the center of politics, culture, and art, and Japanese history has developed mainly around Kyoto.
The streets of Kyoto will provide a fascinating subject of research for the foreign students who come to study Japanese history.
Classic Japanese literature such as "The Tale of Genji" and "The Pillow Book", as well as traditional forms of public entertainment such as Kabuki, Noh and Kyogen, originated in Kyoto, and were developed through intimate ties with the lifestyles of the residents of Kyoto.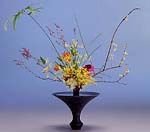 Many foreign students learn the methods of the tea ceremony and flower arrangement in their free time and make efforts to learn and understand the "heart" of Japanese culture.