Information for Foreign Students: Lifestyle Support
Support for foreign students and an introductory guide to available facilities
The people of Kyoto are very friendly and have many opportunities to meet foreign residents and students. There are also exchange facilities for foreign students and many chances to contact students from other universities. As such, foreign students soon become accustomed to their life.
Foreign students can receive life consultation and information on the procedures for entering and leaving Japan at theKyoto Prefectural International Center(External link) in the Kyoto Station Building and at theKyoto City International Foundation(External link) in Kyoto city. These institutions hold many events involving Japanese culture and art and exchange with local residents.
Foreign students can receive consultation on housing from Japan Educational Exchanges and Services(External link).
Furthermore, course unit exchanges, common lectures among universities and internship programs, are organized by the 'Campus Plaza Kyoto', which was established bythe Consortium of Universities in Kyoto(External link).
Furthermore, support for housing can be obtained at the 'Kyoto Foreign Student Exchange Assembly', which is organised by public offices, universities, and other related offices.
If foreign students find themselves in difficulty, they can consult with the people at the Foreign Student Section of their university, who will respond earnestly to their needs.
There are about 53,000 foreign people, including foreign students, living in Kyoto Prefecture. Signs are written in foreign languages on public transport, such as the subway, and on the streets to create a Kyoto in which it is easy for foreign people to live.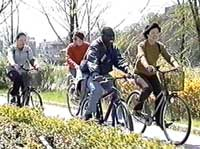 One can relax and refresh themselves in their free time through visits to the many art galleries, museums and traditional industries in Kyoto, or get some fresh air out in the surroundings of the city.