Health: Introduction of Prefectural Hospital and Health Center
Kyoto Prefectural Medical University Hospital
Address
465 Kajii-cho Hirokoji, Kawaramachi-dori, Kamigyo-ku, Kyoto-shi 602-8566
Closed
Saturday, Sunday, national holidays, and New Year holidays (December 29th to January 3rd)
Initial Examination Time
8:45 A.M. to 11:00 A.M.
Regarding time for re-examination, please contact each section.
The automatic information machine for re-examination is available (from 8:00 A.M.).
If you don't have any introduction letters from other doctors, please pay an initial medical examination fee as an individual payment of 3,150 yen (including consumption tax) together with your general initial examination charge.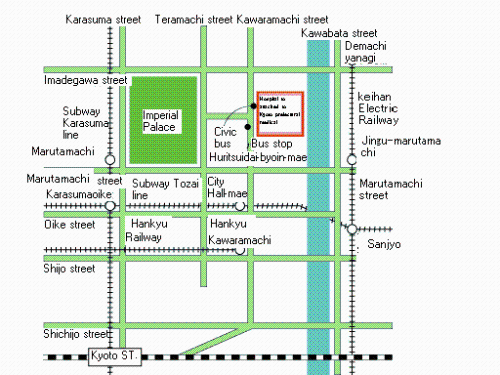 Route 4, 7, and 205 city bus from JR Kyoto Station to Furitsu-Idai-Byoin-mae
Route 3, 4, 17, and 205 city bus from Hankyu-Dentetsu Kawaramachi Station to Furitsu-Idai-Byoin-mae
Route 37 and 59 with city bus from Keihan-Dentetsu Sanjyo Station to Furitsu-Idai-Byoin-mae
Route 23, and 43 Kyoto bus from Keihan-Dentetsu Sanjyo Station to Furitsu-Idai-Byoin-mae
10 minutes on foot from Keihan-Dentetsu Jingu-marutamachi Station
15 minutes on foot from Keihan-Dentetsu Demachiyanagi Station
Reference
Prefectural Health Center (Available only in Japanese)
| Public Health Center | Zip code | Address | Tel | FAX |
| --- | --- | --- | --- | --- |
| Otokuni Health Center | 617-0006 | 8 Umatate, Kamiueno-cho, Muko-shi | 075-933-1151 | 075-932-6910 |
| Yamashirokita Health Center | 611-0021 | 7-6 Uji Wakamori, Uji-shi | 0774-21-2191 | 0774-24-6215 |
| Yamashirokita Health Center Tsuduki Branch | 610-0331 | 1 Tanabeaketa, Kyotanabe-shi | 0774-63-5745 | 0774-62-6416 |
| Yamashirominami Health Center | 619-0214 | 18-1 Koaza-Jyoko, Kizu, Kizugawa-shi | 0774-72-4300 | 0774-72-8412 |
| Nantan Health Center | 622-0041 | 21 Fujinoki, Koyamahigashi-cho, Sonobe-cho, Nantan-shi | 0771-62-4751 | 0771-63-0609 |
| Chutan'nishi Health Center | 620-0055 | 1-91 Sasao-shinmachi, Fukuchiyama-shi | 0773-22-5744 | 0773-22-0429 |
| Chutan'higashi Health Center | 624-0906 | 1499 Nishi, Kuratani-mura, Maizuru-shi | 0773-75-0805 | 0773-76-7746 |
| Tango Health Center | 627-8570 | 855 Tanba Mineyama-cho, Kyotango-shi | 0772-62-0361 | 0772-62-4368 |