New "Information about Studying Abroad in Kyoto Blog" for students overseas!
This new blog is aimed at students abroad, who are thinking about doing a study abroad or becoming an exchange student in Japan, and offers information in various languages about things like accommodation, universities, and everyday life while on exchange in Kyoto.
This year, Friendship Ambassadors for Kyoto Prefecture from 8 different countries and regions write in both Japanese and their mother-tongue from the perspective of an exchange student. The Friendship Ambassadors are from: South Korea, Taiwan, China, Germany, Vietnam, Peru, Malaysia and Myanmar.
This blog hopes to persuade people to choose Kyoto as their study abroad destination, and hopefully has some useful information for those already studying and living in Kyoto.
Blog name: "Information about Studying Abroad in Kyoto by Kyoto Prefecture"
http://studykyoto.wordpress.com/( External link )

http://blog.sina.com.cn/u/3728869051( External link ) (for Chinese Mainland readers)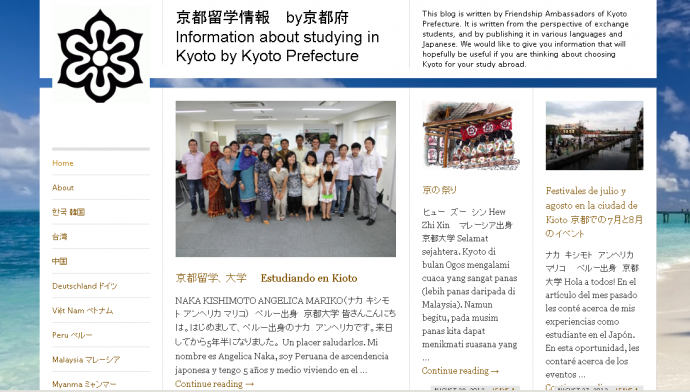 ( External link )
Since 1992, enthusiastic exchange students from all regions of the world have been appointed as Kyoto Prefecture Friendship Ambassadors and help to build bridges between Kyoto Prefecture and their respective homelands. By taking part in international events and school visits organised by their local municipalities and citizen groups, they are helping Kyoto Prefecture deepen its understanding of foreign cultures and peoples, and contribute to the overall internationalisation of Kyoto Prefecture.
Click here to see what kind of things the Friendship Ambassadors are doing:
Kyoto Prefecture Friendship Ambassador Facebook: https://www.facebook.com/KPFA1992( External link )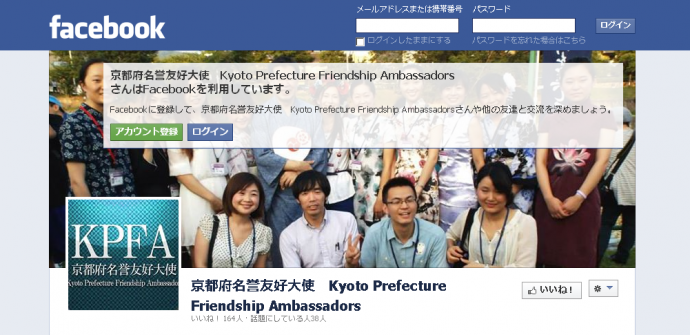 ( External link )
Kyoto Prefecture Friendship Ambassador Blog: http://kpfa1992.blogspot.jp/( External link )

Click here for further details on duties and activities of Kyoto Prefecture Friendship Ambassadors.