Public Relations Center
A HANDS-ON LEARNING EXPERIENCE AT OUR PUBLIC RELATIONS CENTER!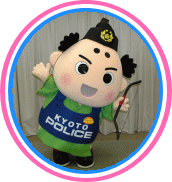 Have you ever heard of Kyoto Prefectural Public Relations Center?
At our Kyoto Prefectural Police Public Relations Center, you can enjoy learning about police business and its organization. Enjoy viewing videos and quiz programs on computer. You can also try out a bike simulator, and try your hand as making (mock) 110 police emergency calls, and preparing identikit photographs. You'll feel like a clever police officer! There is even a police motorbike you can pose on for photographs.
In addition, if you book a tour of the police headquarters, you can visit our Police Command Center and Traffic Control Center.
The Command Center is where we receive 110 emergency calls and dispatch police officers to crime scenes. At the Traffic Control Center we collect traffic information within Kyoto Prefecture to supply relevant information for drivers and to control traffic signals.
So why not come and take a look at Kyoto police operations!
The opening time
Monday to Friday (Except Saturday, Sunday, public holidays and Year-end and New Year holidays)
9:30a.m. to 5:00p.m.
Location
Shimodachiuri agaru, Shinmachi-dori, Kamigyo-ku, Kyoto city