Driver Aptitude Consultations for Persons with a Designated Illness/Condition
For persons with a designated illness/condition:
When applying for a driver license or renewing an existing driver license, all persons suffering from one or more designated illnesses or conditions must be individually assessed to determine whether or not the illness or condition presents any risk to driving safety.
If it is determined that the illness or condition does present a risk to driving safety, then based on considerations for ensuring road safety, a decision may be made to refuse an application to obtain or renew a driver license. If this affects you, the first step is to inquire at the office for driver aptitude consultations.
What are the designated illnesses and conditions?
Dementia
Schizophrenia
Epilepsy
Recurrent syncope
Arrhythmia
Hypoglycemia unawareness
Bipolar disorder
Serious sleep disorder
Apoplexy
Other (conditions that can adversely affect safety driving)
The privacy and personal data of individuals affected by a designated illness or conditions and their families will be carefully protected, so please be fully open in your consultation.
If you are thinking of applying for a driver license, feel free to contact us for a consultation before making your application or starting a driver training course.
Measures on Drivers who Suffers From Certain Kinds of Disease(Effective as of June 1st,2014)
Please provide complete and accurate information!
Question System Regarding To the Symptoms on Certain Disease
You shall be obliged to submit the "Questionnaire" regarding to the symptoms on certain disease at the time of acquisition or renewal of the driver's license.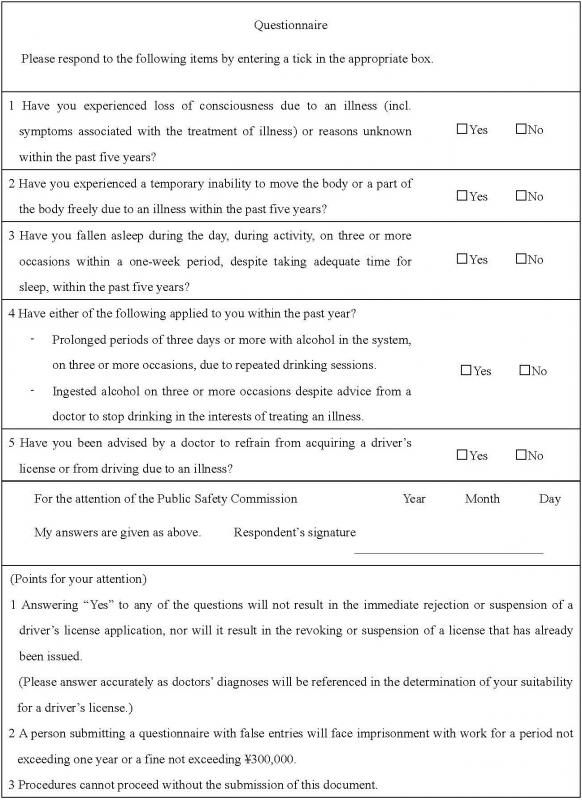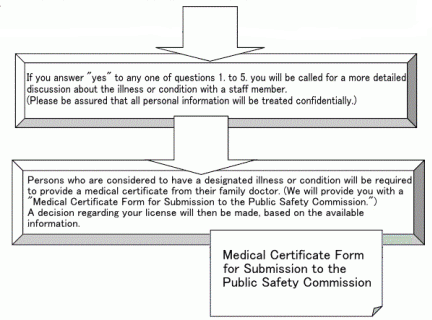 Registration System on Voluntary Basis by Doctors
Doctors may submit, on his or her voluntary basis, the result of examination of license holders who corresponds to certain level of disease,etc. to the Public Safety Commission.
Provisional Halting System of the Effectiveness of the Driver's License
Due to the situation at the time of traffic accident and in case of suspected disease is likely to be recognized, your driver's license shall be suspended for not exceeding 3 months period.
Exemption system of writing or technical examination at the time of re-obtaining of the license.
In case if your driver's license has been cancelled due to a certain kind of disease and wish to re-obtain the license within 3 years due to the improvement of symptoms,etc., the examination (except aptitude test) shall be exempted.
Driver Aptitude Consultations
Aptitude Consultation Section, Kyoto Prefectural Police Driver License Examination Center
Tel: 075-631-5181 Exts. 412 & 413
Fax: 075-632-2694
Hours
Monday to Friday (Except public holidays, Year-end and New Year holidays)
9:00 a.m. to 5:00 p.m.
Required items
Driver license (if you already have one)
Consultations are free of charge but a reservation must be made in advance. Please feel free to contact us for a consultation.