Proper use of Dial 110 emergency call
We can never be sure as to when we are involved or encounter with crimes and accidents in our daily life.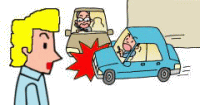 Please call Dial 110 as soon as possible, when
you become a victim of theft or purse-snatching
you are involved in a traffic accident or witness it
you witness a fighting
It's not necessarily limited to crimes and accidents when we feel anxiety in our daily life. You may want to call 110, when
you see a suspicious person
you notice explosion and gun shooting
to get rid of your anxiety.
Dial 110 is of vital importance to cope with extreme emergency.
For inquiries and other not-urgent matters, don't call 110 but instead please call Kyoto Prefectural Police Headquarters at 075-451-9111.

Prank or wrong calls to 110 hotline impede police officers receiving and dealing with emergency.
Please use Dial 110 emergency call properly.
(Prank calls to 110 hotline are subject to punishment in accordance with Japanese law.)